Wales. What springs to mind when I think of Wales? Being a rugby man, the Six Nations and the titanic clashes the Millennium Stadium has witnessed certainly appears in my thoughts. Being a family man, memories of past holidays jump into vision, and this indeed was the case for Marie and Stephen too. They say a couples first holiday together can be a 'make or break' moment, and it would appear that this was a truly solid 'make' as they returned to the spot of their inaugural trip, Gower, to celebrate their wedding day with friends and family. Being a photographer man (I think that is acceptable English), the views of Wales suggest an unspoilt landscape of natural beauty... I wasn't disappointed.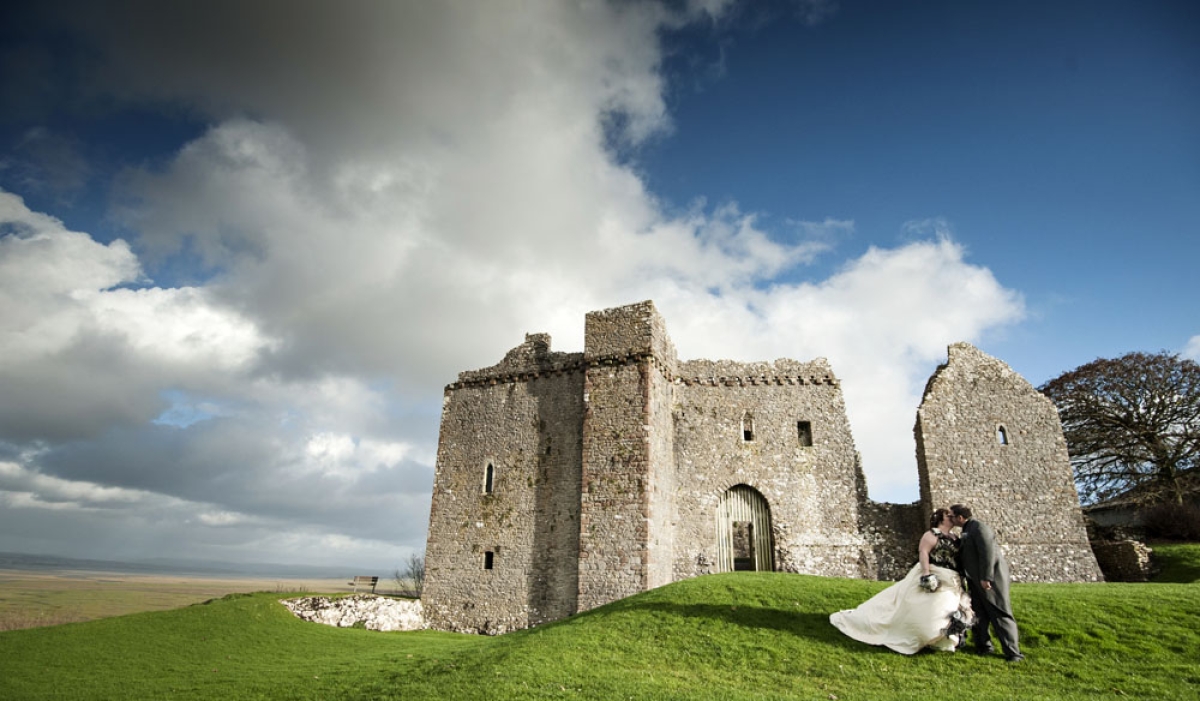 The wedding of Marie and Stephen
For anyone who hasn't visited Gower in Wales, it is absolutely worth a trip. This isn't just a wedding venue, the area is simply beautiful. I really enjoyed my time in Wales with Marie and Stephen, and for a photographer it was a delight. Seeing as this was the lovely couples first holiday away together, it really doesn't surprise me that it obviously brought back such great memories for them that it was the ideal choice for their big day. To add to the mix, the newlyweds also share a love of castles, so with Weobley Castle just a stones throw away (the proud home of the de la Bere family until the 15th century) it really was a no brainer for their venue. I'm so glad they chose it too! Whilst shooting away at Weobley, it suddenly occurred to me, there aren't many places left where you can stand at the same window as someone did half a millennium ago, and witness the same unspoilt view. Amazing.
So, following a two year engagement, the lovely couple met for the last time as singletons, before they embarked on their journey as man and wife on Thursday 17th November 2016. Although we managed to snatch a spare half an hour for a photoshoot at Weobley Castle, the wedding and preparations actually took place elsewhere, but no less picturesque I must add. Continuing the theme of rural elegance, the bride-to-be Marie, her bridal party and family began the day at Mulberry House. From this base of operations, they enjoyed a lovely pre wedding, stress free, in a stunning, modern cottage with gorgeous outdoor landscapes from all directions. I managed to take a few photos of the preparations as you'll see below... just look at those beams! A great place to visit should you get the chance of a weekend away. Whilst this was all unfolding, Stephen looked the picture of relaxation, suited, booted and shaded!
"Hidden seductively within 50 acres of breathtaking countryside, Oldwalls Gower is a unique five-star wedding venue in South Wales."
After all the build up and the wedding itself, the now happily wed couple were able to really take advantage of the stunning backdrop that Gower provides. As well as the castle, we took some really eye catching photographs of the nearby lake which came out so atmospheric... one of those occasions that nature just makes my life as a wedding photographer easy and so, so enjoyable. The reception itself was lots of fun, and a special mention must go to Phil Jay, the magician that Marie and Stephen had hired as entertainment. He was brilliant, and as you'll see on the photos, he had everyone in stitches, as well as providing a few jaw dropping moments. It's also worth highlighting the staff at Oldwalls. From experience, just because a venue has been awarded 5 stars, it doesn't mean they offer a 5 star service, but in this case, they were wonderful from start to finish. Really lovely people and they made the day flow so well. The 5 star element was 100% deserved for the venue itself, impeccable and absolutely beautiful... quite fitting with the amazing surroundings that it finds itself in.
To end, I'd just like to wish Marie and Stephen congratulations on their wedding and thank you for inviting me to be a part of it.
Wedding photography by Jon Thorne at Oldwalls Gower, Mullberry House and Weobley Castle, Wales.