2020. What a strange old time hey? With such disruption to the industry this year, it was with a great sense of freedom that this wedding photographer ventured back out into the world to capture someones wedding day on film. So with a change or two here and there (not least a venue relocation from Sorrento all the way to Guildford in Surrey), Daniella, Tom and I set about photographing some special, wedding memories, complete with a little social distancing and a sprinkle of Italy...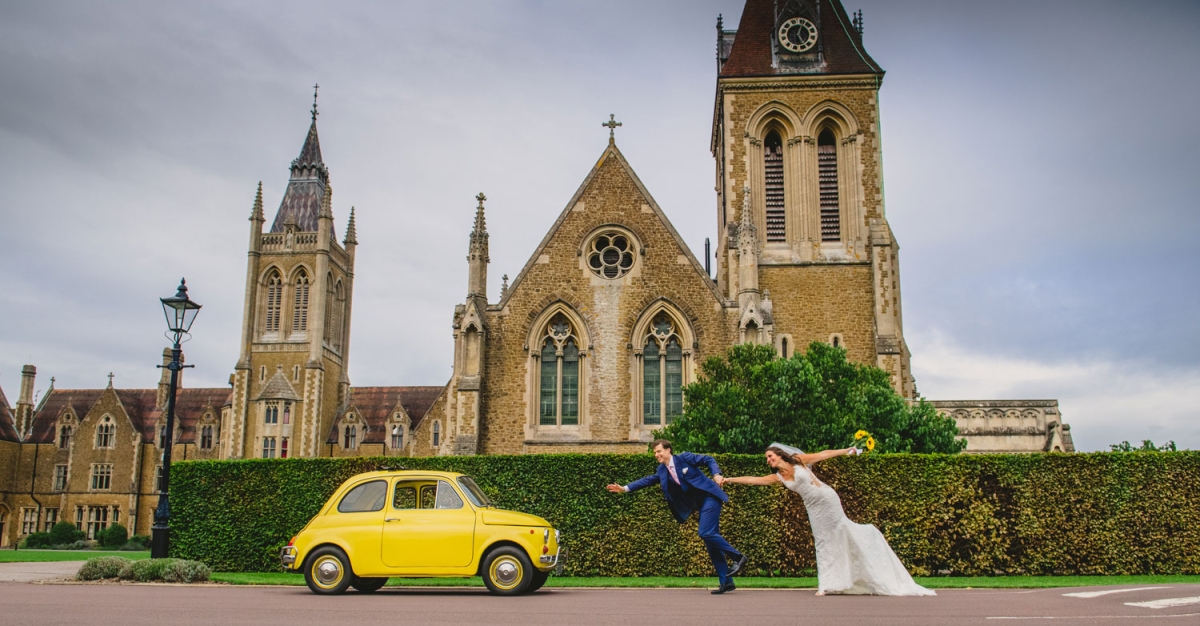 The wedding of Daniella and Tom
The 29th August 2020 was meant to be quite different for the delightful Daniella and Tom. The original plan of action involved the lovely couple saying their vows in Sorrento, Italy, with friends and family around them. Add into the mix views of the bay of Naples and Mount Vesuvius, and you'll surely begin to paint quite a beautiful picture in your mind. Unfortunately, like so many other couples, 2020 happened, and all that the Covid pandemic had to offer. In short, plans were put on hold... but that wasn't going to stop our bride and groom to be from doing the part that meant the most to them... becoming man and wife in front of an intimate gathering of close friends and family. And if they couldn't go to Italy just yet, they decided to bring a little bit of Italy to them!
With a desire to say their vows to one another, no matter what, and a bride to be with Italian blood, the couple, along with their family, began making plans to ensure that their big day became a day they would cherish forever... along with employing little old me to turn up with a camera in hand, and photograph their wedding. And in such circumstances, a wedding photographer became even more important, along with a greater sense of responsibility. With reduced guest lists, and an inability to surround themselves with everyone they'd have liked at their wedding, the task was set for me to ensure that I captured all of those moments on camera, so that friends and family who couldn't attend, were able to get a real glimpse into proceedings via their phones and laptops. No pressure then... *gulp*!
I really shouldn't have worried though, as the whole day was in very capable hands. Covid guidelines, check. New venue, check. Updated guest list, check. Fabulous mum Mary and Godmother Jackie on hand to ensure everything went smoothly and became a stunning celebration for all, check, check! Add on top of that, Daniella's brother Arnie, lots of people I've forgotten to mention and some genuinely wonderful people at the register office, and the day took shape beautifully, and became a fantastic event for all, and a joy for me to photograph. And all along, the trip across Europe to Sorrento was never far from the happy couples minds, with some lovely Italian touches to nod towards Daniella's heritage... not least the gorgeous, vintage Fiat Cinquecento, in bright yellow none the less! Serious motor envy! However, the visit to Italy was quite clearly postponed and not cancelled, with a lovely, handmade sign detailing that they would 'see you in Sorrento', with plans afoot to make the journey with their friends and family once things have all settled down... now that's a trip to look forward to!
It would also be amiss of me to not highlight where the wedding photoshoot took place. Following their ceremony at Artington House, the reception was a small, social gathering in a marquee at home. In between, we managed to find somewhere quite special to take some photographs, that I hope they'll treasure forever. With the sights and scenery of Italy currently unavailable, a different backdrop was selected, and I have to say, it was no less romantic or magical. As a resident of Godalming with 30 years, Charterhouse School is certainly familiar. The couple use the grounds regularly to jog through and exercise in, and with such stunning architecture, it was a beautiful backdrop for their wedding photographs. In true British spirit, the school didn't just allow them use of the grounds either, going that extra step, above and beyond, just to add an extra touch to make their day a little more special, by leaving champagne for them to enjoy... really touching, and it certainly added an extra sprinkling of magic to an incredible day.
Congratulations to Daniella and Tom, and I hope that the Sorrento leg of your wedding next year is every bit as perfect as the English section in 2020!
Wedding photography by Jon Thorne at Artington House and Charterhouse School, Surrey.