Sometimes in life, I wonder, 'is there someone looking down on me?' Now, I must add that I am not always talking about 'someone' in a positive manner. Every now and again, I do just stop and think 'why me?!?!' or in this case 'why today?!?!' On the 20th May 2017, this thought process occurred again as I arrived for the wedding of the beautiful Eve, and her handsome groom Adam, in the stunning Gloucestershire countryside... and then I looked at the sky. As the heavens literally opened and poured down on the happy couples big day, I worried that perhaps this downpour might put a dampener on proceedings... how wrong I was, in more ways than one...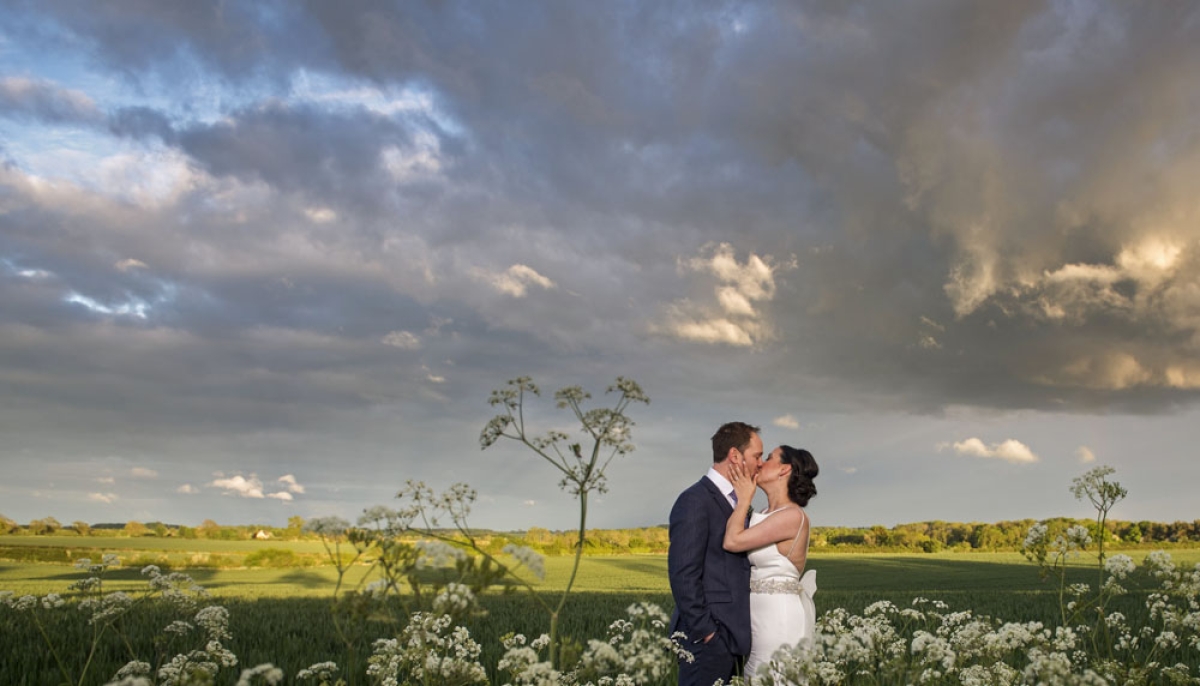 The wedding of Eve and Adam
When I say rained, I really do mean it RAINED. Surrounded by the beautiful couple of Eve and Adam, their wonderful, friendly guests, and the stunning scenery on offer at Cripps Barn, I couldn't think of many better places to be a wedding photographer on that day... but the weather threatened to ruin my mood. Dusting myself down, and giving myself a mini pep talk, I looked to the positives... photoshoots in the rain don't half come out well, and they add so much atmosphere to an image, this could end up being an unlikely bonus. I must also add that whilst I had nervously been glancing back and forth to the sky, the most important people seemed to be oblivious to it all... relaxed, smiling and happy. Some of the pre wedding photos I managed to capture came out so well and as you'll see below, are full of smiles... and the odd glass of bubbles.
Well, the show must go on! And as the wedding party assembled in the ceremony room at Cripps Barn, it was clear that the weight of the day was beginning to burden Adam as he anxiously waited for his gorgeous bride to be to walk down the aisle towards him. With his best man and friends offering reassuring words and gestures, a clearly emotional Adam found that stiff upper lip us Brits are famous for and held it all together... although he simply wasn't able to hide the love he clearly has for Eve, his new wife. There were some truly lovely shots that I managed to catch of the two of them as they said their vows. Beautiful scenes.
So our groom has offered an outpouring of emotion, and we already know that the weather has followed a similar path... or had it? In a quite remarkable turnaround, the rain literally stopped the second the newlyweds walked out of the ceremony. And with it, the wedding swung into action! With the backdrop of Gloucestershire's finest countryside, it would have been truly amiss of me as a wedding photographer to ignore the visual opportunities presented to us, especially as they glistened with raindrops from the earlier showers... it was all turning out wonderfully. As well as some great images of the bride, her groom, her bridesmaids and his best man and co, the happy couple also managed to get away from it all for a few minutes and we managed to take some lovely photographs of the two of them, alone, set against the fields and skyline surrounding Cripps Barn... and as you'll see, we even managed to find a rainbow.
A quick mention too for the venue... what a corker! Cripps Barn, in Gloucestershire is a stunning, old Cotswold stone barn, surrounded by natural beauty from all angles. As a family run business, you really feel that the owners and staff want to give you the very best day you can, and that shines through... lovely people to work with. Relaxed, vintage, exquisite. I certainly won't need asking twice to come back here again, and I'll definitely be eager to revisit Gloucestershire itself. Congratulations to the happy couple, Eve and Adam!
Wedding photography by Jon Thorne at Cripps Barn, Gloucestershire.