I've got admit, I am a sucker for a vintage vehicle. So operating as a wedding photographer from Staffordshire, it's fair to say that I get to see the odd one or two classic cars carrying a bride, groom or entourage to their chosen venue, such is the style nowadays. It's not all that often however, that the transportation is actually owned by either the bride or groom to be... even less often that it is in such a spectacular condition that Auto Glym themselves might want to sponsor it! I introduce Rebecca, Lee and their Land Rover Defender, who and which I photographed in Cheshire, June 2017.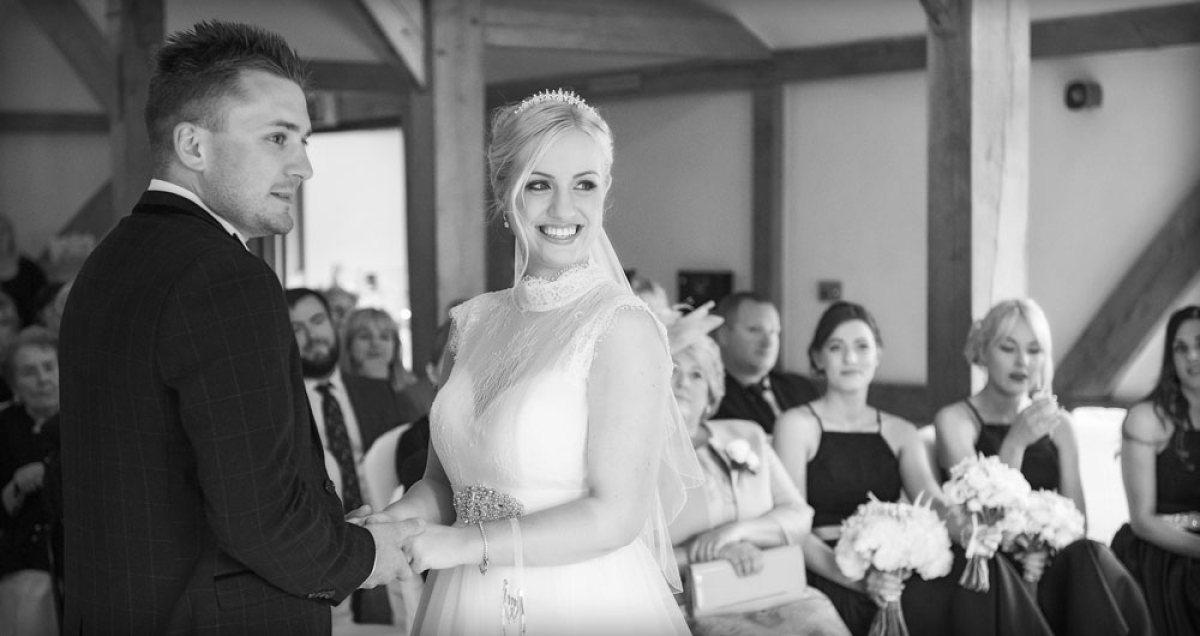 The wedding of Rebecca and Lee
Now, having just gone into superlatives overdrive, it would be amiss of me not to begin with a little more about Lee's little Defender. As a man passionate about all things Land Rover, the world renowned off road vehicle manufacturer (built not all that far from me in the Midlands), Lee, our groom to be, carried that passion through to his own motor. I always admire a clean car, but this little beauty could be used as a dinner plate, you really could eat your evening meal off of it. Immaculately kept, as you'll see in the photos below, it was a truly stunning example of automotive perfection as it gleamed in the sunlight. To top it all off, there were two! And both looking equally impressive. As a theme which ran through both families, Lee's new father in law is also a keen admirer of the Land Rover and brought his along to keep Lee's company.
Having just gone overboard on the transport for the wedding day, I probably should steer the course of this blog back to the two most important elements, the bride to be Rebecca, and her soon to be groom, Lee. A truly wonderful couple, so laid back, and a joy to photograph on their big day. We managed to cram lots of little shoots in throughout the occasion, including much of the bridal preparations, the grooms arrival, the stunning barn ceremony as well as mini, intimate ones before and after the wedding breakfast. Going back to my first photographic contact of the day, I must mention Rebecca's unveiling to her bridesmaids... as you'll see in the photos, it was a teary event, but full of happiness and joy as they took in all of her beauty... she looked fantastic. Not to be outdone, her father joined in the emotional moments as he shed a tear or two when he came to collect his beautiful daughter a little later.
Quick mention before I forget to Annette and Jane from Top Table Wedding Events. As Brucie might say, "didn't they do well?!" As co-ordinators at this gorgeous barn venue, they really did create a wonderful wedding here, and were also on hand to provide the sumptuous food. Massive thanks!
Last, but not least, the venue... and what a venue. Set in 400 acres of Cheshire countryside, Sandhole Oak Barn is a breathtaking setting for anyone looking for a rural, vintage, outdoors, barn wedding. Set beside a tranquil lake, it is a sight to behold. It certainly makes the life of a Staffordshire wedding photographer much easier with such stunning backdrops. Rebecca and Lee chose to take their vows in the Oak Barn, but there is also an option for your nuptials to take place under the Clock Tower, for those that would prefer a more outdoor occasion.
Wedding photography by Jon Thorne at Sandhole Oak Barn, Cheshire.