Now, I'm not sure about you, but when I go on holiday, three emotions occur. Firstly, I start to feel excited, jetting off into the sun to get away from everyday life for a week (or two if I'm lucky). Secondly, when I arrive, I get the feeling of relaxation, contentment, and find myself repeating ad nauseam for the first few days, 'this is the life!' However, the third and final emotion that starts to envelope me is longing, a home sickness, a return to your own four walls and the comfort it brings. The idea of home, sweet home could not be more apt for a wedding than that of Claire and David. With the happy couple make a life for themselves in the beautiful country of Canada, they still decided on a very British wedding day in Cheshire, at the groom's family home, in a marquee, and praying for a little luck weather wise.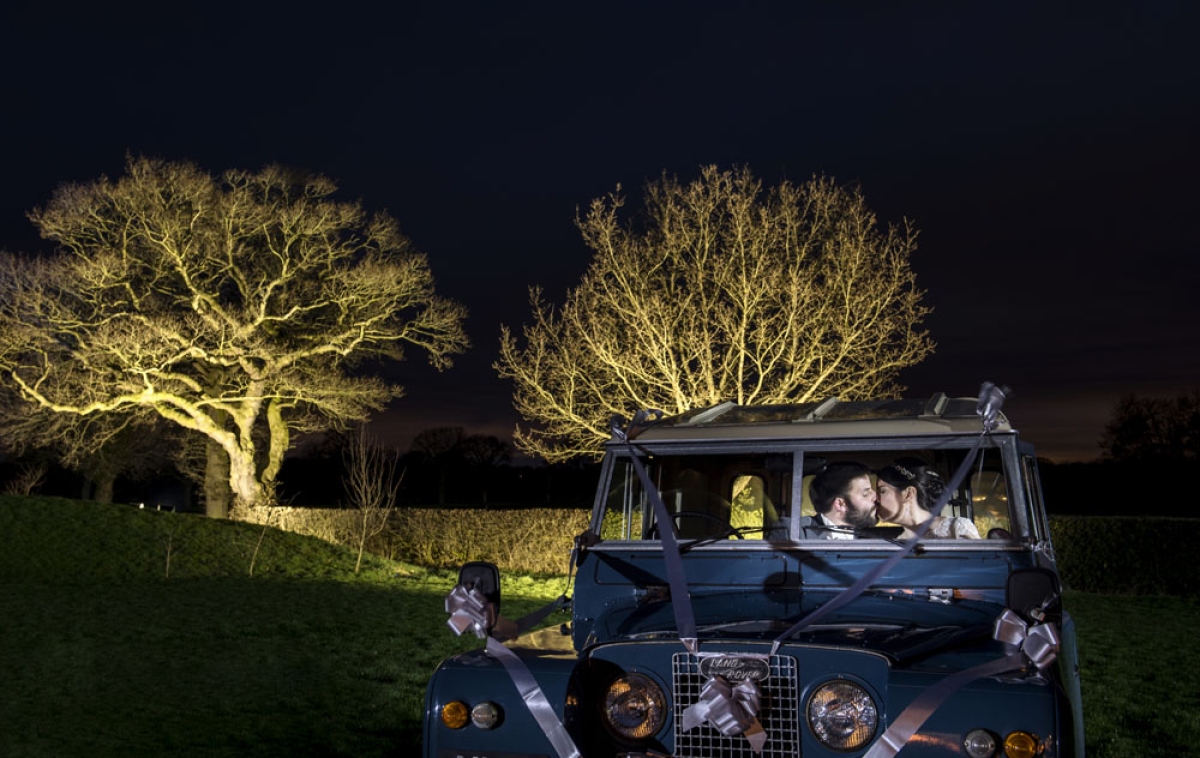 The wedding of Claire and David
Now from experience, being a wedding photographer in the Cheshire countryside, in February, means two things. One, the photo opportunities against the gorgeous landscapes Britain has to offer can be stunning. So tick once for excitement. The second is, will the weather be kind? Having made the long journey from Canada to Cheshire for their big day, both Claire and David certainly hoped it would be... but Mother nature almost had an off day, right at the start, to throw their wedding plans into chaos. When I heard about their backgrounds as a clever couple, with Claire a teacher of history, and David a scientist, my ears pricked up and hoped the science part stretched to meteorology, and he knew something I didn't. It turned out not to be the case, as no one could surely have forecast the heart stopping moments just days before their Cheshire wedding, when the storms we endured nearly blew the outdoor marquee venue clean out of it's fittings and across the sprawling countryside. With the day threatened however, the British 'onwards and upwards' spirit shone through, and family members (and indeed anyone else to hand) raced to the rescue and halted the marquee's getaway. Phew! It might have been a bit nippy during the wedding reception if they hadn't!
When it came to the big day itself, it was really clear that Britishness was something that would play a big part throughout. Not only did Claire and David make the trip across the Atlantic to be back at David's family home in Cheshire, but there were lots of little details that accentuated the feeling in every nook and cranny. There certainly aren't many more iconically recognisable vehicles from these fair isles than the Land Rover Defender... and what a beauty! Immaculately kept, and part of David's family from when his granddad originally purchased it, the farm yard workhorse was a real picture as it brought David to the church to say his vows. All decked out in ribbons, it was a talking point throughout, and great to photograph. Obviously, we had the Cheshire countryside, but other elements such as the quaint church they married in, vintage tea cup place cards, good old fashioned sweets, strong ale on tap, afternoon tea and cakes... it was a real celebration, and a treat!
Now of course, I must mention the bride separately before I end. Claire looked truly stunning on her big day and the new Mrs Ashbrook certainly looked the picture of 'wedded bliss' as the beer taps suggested (you'll see the pictures below to see what I mean). A truly lovely couple and I felt so privileged to have been asked to be a part of their day and photograph their Cheshire, countryside wedding. So I believe a toast is in order... to Mr and Mrs Ashbrook!
Wedding photography by Jon Thorne in Cheshire.