I like to think, as a wedding photographer should, that I have an eye for detail. At least I hope I have! I think it's something you're born with. No matter how expensive the camera, the person behind it makes the difference... listen to me going on! But back to my point... an eye for detail. Now imagine my joy, as the guy in charge of the wedding photographs, when I arrived at Shustoke Barn for the wedding of the lovely Guy and Tim and saw what can only be described as a venue and occasion of complete and utter class and style... and a lot of very happy faces.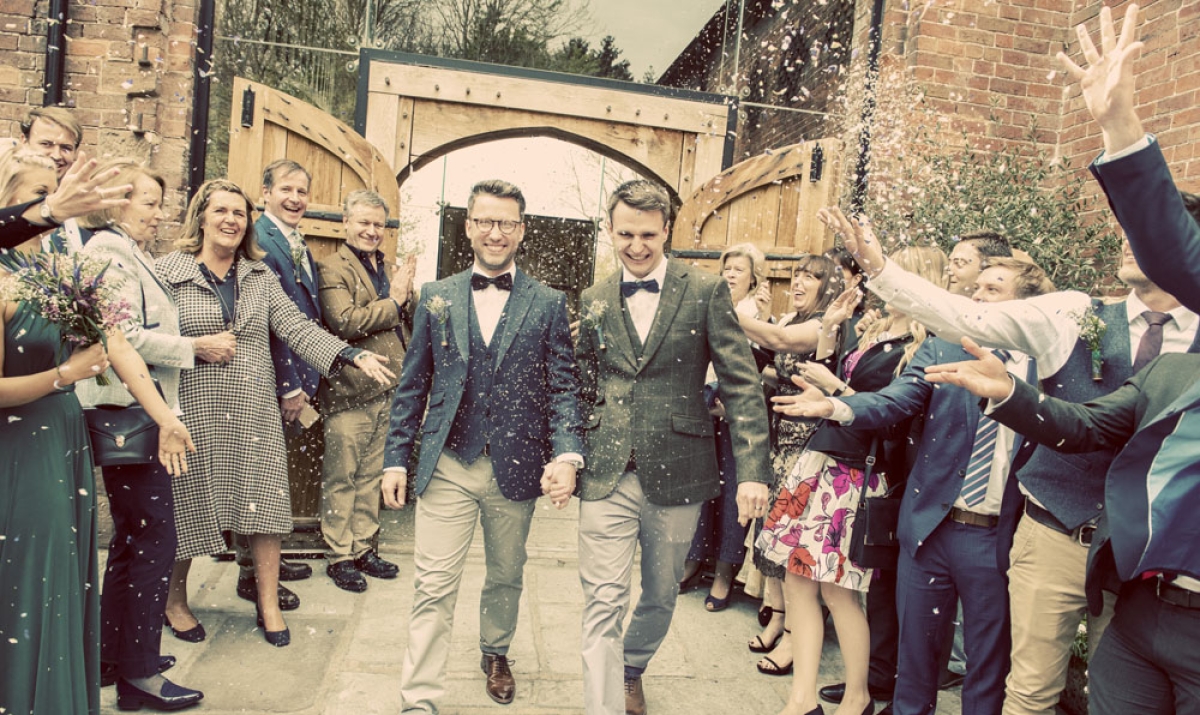 The wedding of Guy and Tim
So here I was, on the 29th April 2017, at the gorgeous Shustoke Barn to photograph Guy and Tim's big day, and I already know two things that are going to make the day a real joy. Firstly, the grooms to be are a really lovely couple. Genuine, friendly and welcoming, so a good start. Secondly, the venue is a beauty. The Barn is the perfect setting for those looking for something a bit rural, with a vintage style to it and with space to cater for all of your friends and family. Just outside of Birmingham and Coventry, it's a real doddle to get to, and once you are there, the olive tree lined courtyard is a stunner. So we'd got the amazing venue, along with their wonderful staff, our grooms to be... we just needed a wedding to top it all off!
Now I've mentioned it above, and you'll see from some of the photographs below, but goodness me, Guy and Tim are a stylish pair of chaps! Everything just fitted together seamlessly, from their classy but individual tweed suits, all the way through to the floral decorations. I felt like I was on a freshly prepared film set for a countryside set BBC drama! Talking of film sets, I implore you to have a look at the photos below and find the shot we took of the grooms and their entourage aside, inside, sprawled across and indeed atop of an immaculate, classic Land Rover. I'm sure you won't need to look too closely to find our 'Gaston', with quite a stance upon the rear tyre. All Beauty and certainly no Beast from top to toe at this wedding. And now I mention the Land Rover, it was another element of the day that just fitted so perfectly, with the vintage vehicle bringing the groom's to the venue itself, as they prepared to wed.
Tiny, intricate details simply peppered the event. We've mentioned the suits themselves, but that was glossing over the finer points such as the very clever little buttonholes they each had. I won't spoil it, have a look below and see if you can work out what they were... and then match them up to the cufflinks. Like I said, such attention to detail, it really felt like you were seeing something special each and every way you turned. Now when it came to me adding that extra little touch, I was delighted to capture some lovely shots of Guy and Tim as they embraced against a vibrant and warm countryside sunset... it really was a case of the weather reflecting a beautiful day.
However, details don't make a wedding. You can make all the fanciest favours, think up weird and wacky extras to your hearts content, but a wedding really needs just two simple ingredients. Love and joy, and we had those in spades. It was a joyous occasion from start to end, and very much so in the middle too. The speeches were packed with emotion and laughter, and that atmosphere was built upon friends and family, all coming together for a special day, and one I'm sure they'll always remember. Congratulations to Guy and Tim!
Wedding photography by Jon Thorne at Shustoke Barn, Warwickshire.