When I'm asked about particular weddings, there is always something that springs to mind above everything else whilst I'm playing the designated photographer. Obviously, the beautiful bride jumps to the forefront (and Emily looked stunning I'll add) but there's usually a little moment or event that just can't be ignored or forgotten. Often, it's the accidental things that stick in the mind, a spontaneous burst of laughter from guests perhaps when a party member tries a dance move or two too far. As the man behind the camera at Dovecliff Hall for the wonderful wedding of Emily and Phil, however, it was born from an entirely deliberate act from our groom's best men. As the props came out, and the speech was unfolded, the look of sheer worry, horror and terror in Phil's eyes was 'that' unforgettable moment I won't forget...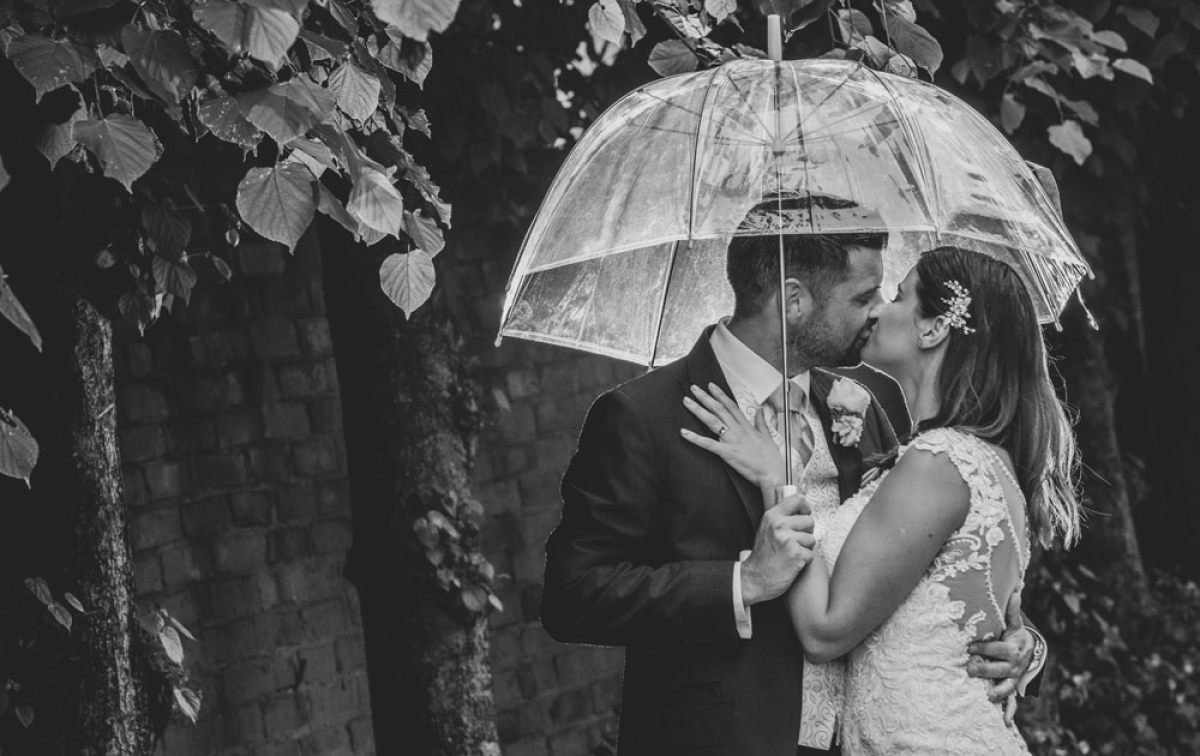 The wedding of Emily and Phil
Not all that long ago, I was the wedding photographer at a lovely couples wedding in Warwickshire. On that day, I remember the best man wander towards the centre of an informal and relaxed room, as the other speeches had done, and began a saying a few words that initially brought about many a clap, a tear and moments of joy. Towards the end however, the seemingly serene speech detoured into territory that began to unfurl a look of horror on the groom's face. Indeed, after just a sentence or two into the final chapter, said newly wedded groom clearly felt as though his days as a married man might be ending prematurely... he clearly knew the direction they were headed. "Don't. Don't," continued to be murmured under his breath with increasing volume as he began to slump in his chair, genuinely terrified by what was about to occur. THIS is the same feeling that I felt Phil was enduring as his best men began to start. Fortunately for Phil, it appeared that it was all a bluff intended to embarrass their mate initially, before they gave a great, moving speech, playing it cool, and leaving Phil to feel as though he had fretted over nothing... or that he'd been let off the hook! My other groom? He didn't get away with it like Phil, and in fact, to this day I'm told, still endures the nickname work colleagues christened him as the wedding party erupted in a mixture of shock and laughter. The nickname could not possibly be repeated.
Anyway, enough about Phil's rise in blood pressure and heart rate, Friday 25th May 2018 was about much, much more on what was a fantastic wedding between two lovely people. Following on from the early morning shots of golf mad Phil and company at the club, my day then took me to photograph the beautiful bride to be, Emily, in Tutbury, a quaint village near Burton on Trent. Having snapped some gorgeous shots as Emily prepared for her big day, she took to the road in a marvellous Maserati, along with her bridesmaids, where we managed to capture some more beautiful images. The dapper chaps waited as Emily walked down the aisle towards her man. It was an amazing atmosphere throughout the ceremony. Love certainly was in the air (see the balloon photos below) with tears of joy in the room, accompanied by an incredible, electric violinist who added a certain 'je ne sais quoi' to proceedings. Brilliant! On the note of chaps and maids, I must also say a big thank you to the guys and gals from both sides of the wedding party who helped me throughout. As a wedding photographer, it can sometimes be a tough job, but they were a delightful bunch who made the whole day so easy for me. Thanks!
Just a couple of lines, but I must mention the first dance, which was amazing, and in particular the soulful tones of Emily and Phil's singer, Jamie Joseph. An inspired choice, excellent voice and he added a touch of sparkle to what was already turning out to be a stunning day! Jamie Joseph, remember the name.
With congratulations in order for the gorgeous couple Emily and Phil, I must finish by detailing the beautiful venue in Staffordshire that they chose to host their wedding day, Dovecliff Hall. An elegant, Georgian House nestled in acres of picturesque Staffordshire countryside. There were some fantastic photos that we managed to capture set against the beautiful, countryside backdrop... and we even managed to fit in a lovely shot of the newlyweds, with accompanying brollie. For those looking for something a little out of the way of all the hustle and bustle, a countryside retreat, it is a gorgeous little find. Having a venue that catches the eye can sometimes be so important when you look back at your wedding album and Dovecliff really does have that little sprinkling of elegance. So without further ado, congratulations to the happy couple!
Wedding photography by Jon Thorne at Dovecliff Hall, Staffordshire.