Now I don't claim to be superstitious, not even a little stitious (awful gag not grammar), but every now and again, I come across someone with a certain sixth sense about them. And whilst it fascinates me, I was a little curious and indeed concerned that such mystical and magical elements might find their way into a wedding between a teacher and an occupational therapist. What am I waffling on about? Love potions. Yup, little containers of bottled love scattered at every table. So with a touch of trepidation, and one eye on my drink, I photographed the beautiful Sarah and Dan at Hawkesyard Hall on Saturday 31st of March and soon realised that not all was as it had first seemed.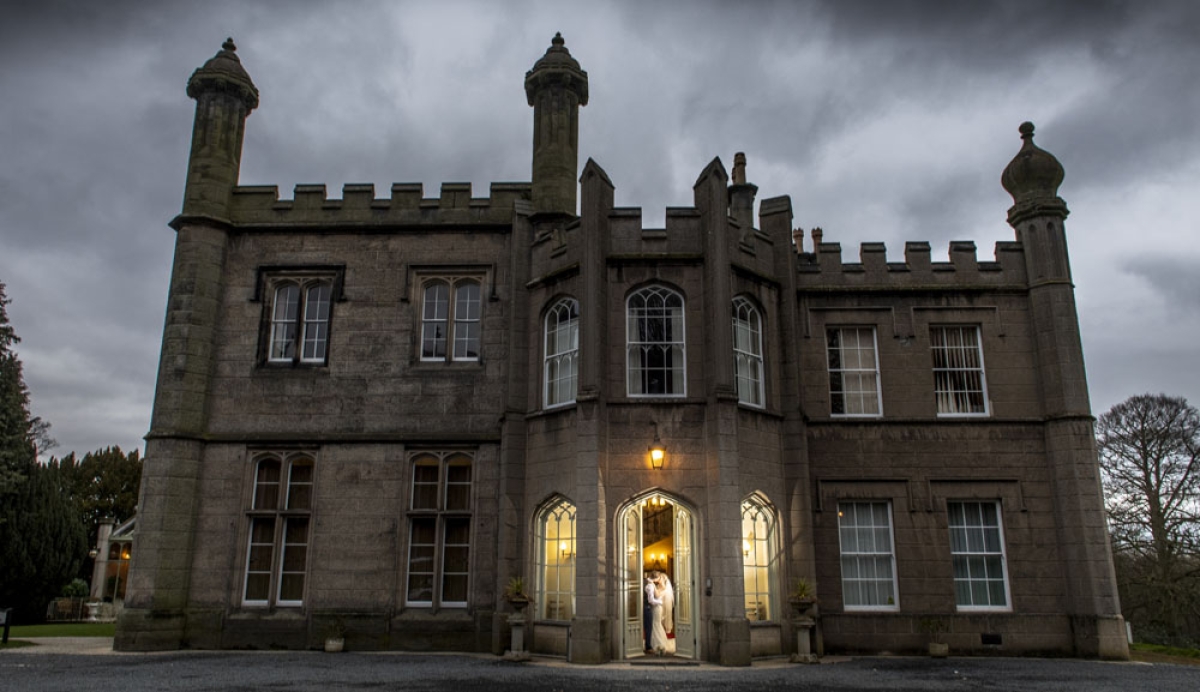 The wedding of Sarah and Dan
Of course I jest, as the miniature love potions stationed in front of each person on every table was part of a really lovely and clever nod to the world of literature. Those Harry Potter fans amongst you might indeed recognise Amortentia from a mile away. Described as the 'most powerful love potion in the world', the beautifully designed, bottled, amber liquid was certainly not required at the top table however, as Sarah and Dan enjoyed their first few hours of married life. To tie in with the literary theme, there were little notes and quotes around each table with some very romantic sayings from a number of our finest story tellers. "I have found for the first time what I can truly love. I found you", was perhaps my favourite on the day, from Charlotte Bronte, and indeed quite apt for the newlyweds.
All talk of the wedding breakfast, however, means I have completely glossed over the start of this lovely day. As always, as a wedding photographer in Staffordshire, I did turn my head to the skies a number of times, but with fortune in our favour, the weather held off so as not to add a foreboding sense of pathetic fallacy to the occasion (using one of the few phrases I learned at school). To be quite honest, I don't think even a downpour would have put a dampener on the day for the happy couple, who were absolutely adamant that they took advantage of the stunning scenery and the venue which they loved so much. Having made their vows at St John The Baptist Church, Armitage, both Sarah and Dan made their way to the amazing Hawkesyard Hall.
Now if you haven't been before, or are looking for a STUNNING venue for your wedding day, you could do a lot worse than visit Sarah and Dan's choice of venue... a simply spectacular setting for any event. Located on the edge of Cannock Chase countryside, Hawkesyard is a real find. Not only is the architecture a wonder to behold, or the grounds incredible, but the people of this magnificent Grade II listed building are something special. With far too many fantastic people to mention, I'll just say a quick thank you to Paul, Hannah and Sarah who all played a part in making the wedding truly memorable for the happy couple, and also very welcoming for me. Thank you.
Before I finish, I must just mention the one abiding memory I have of Sarah and Dan's big day, which was real heartfelt emotion between both man and wife, but also, between the entire party. From the tear or two of joy in their ceremony, to the laughter and happiness brought about from the best man's speech (Dan's brother), the whole occasion was one I'll not forget quickly. Without further ado, congratulations to both Sarah and Dan in their new lives together as husband and wife!
Wedding photography by Jon Thorne at Hawkesyard Hall, Staffordshire.