Anyone who knows me, will know my passion is photography. Wedding photography, is not only something that pays the bills, but it is something that I really enjoy. If I'm out and about in the beautiful Staffordshire countryside, my camera comes too, just in case a photographic opportunity arises. Lots of people enjoy my passion as well, the art of taking still images is a very popular subject. Something else that fuels a fire in many people, especially on wedding days, is VW, Volkswagen, and in particular, the humble camper van. So it is never a surprise to see a 'camper' or a Beetle on a couples big day... it is somewhat unusual to see a fleet of the German automobiles, as was the case at Amy and Mick's beautiful wedding on the 5th August 2017 in Staffordshire.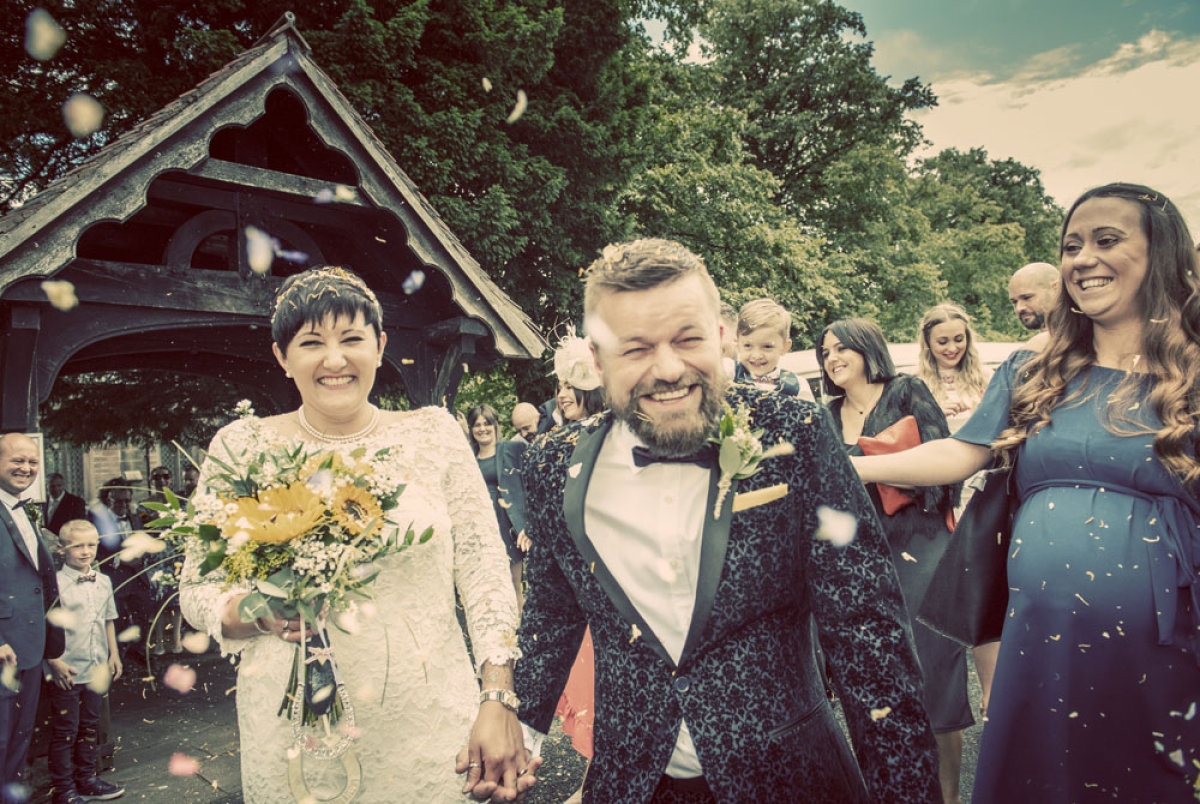 The wedding of Amy and Mick
It's impossible to continue the story of Amy and Mick's day, if I'm being honest, without a little more about those Beetle beauties! With their ceremony taking place at St John The Baptist Church, Wetley Rocks and the main event at Consall Hall Gardens, the bride and groom, as well as the rest of the wedding party needed a little transport arranging, and just so that nobody felt left out, they all travelled in style. I know, I know, you should talk about the beautiful bride first, but alas, I MUST focus on Mick and his 'other' love to begin with, his very own camper van. Mechanically minded Mick, along with his band of merry groom's men, arrived in his own red and white VW camper, and stepped out with a style and swagger that befit the cool and retro motor. Having done up the van himself, along with family friends, it was important that the iconic automobile accompanied him on this special day. And as the rest of his entourage stepped out, there could be no missing Mick. Along with Amy, the groom was a real joy to work with. Laid back, cool and lots of fun, Mick rocked his incredible suit throughout, along with his cracking Dr. Martens (check it all out below). So with the guys all suited, booted and transported, the rest of the party needed to make their way to the church on time too. So as not to feel left out, the bridal party were delivered safely and stylishly in camper vans of their own, whilst Amy, our bride to be, and her proud father, arrived in a stunning Beetle convertible, to add an extra dash of pizzazz.
With my day as a wedding photographer being made easier and easier by the gorgeous couple, their array of VW's and the amazing architecture of St John's, it was onto Consall Hall Gardens for the reception. With the odd downpour failing to put a dampener on the spirits nor the day as a whole, we made our way across town, to what can only be described as a fantastic wedding venue, in the heart of Staffordshire. As the name suggests, Consall Hall Gardens offers a lot of greenery in it's awe-inspiring scenery... 70 acres of it to be exact. It is a breathtaking venue to wow your guests, but offers such beautiful backdrops, it is hard for ANY wedding photographer to fail. Lakes, summer houses, landscaped gardens, pack-horse bridges... it is a real treat. Although Amy and Mick had their ceremony elsewhere, they hold a civil ceremony license and can look after you from start to finish, should you wish. And as far as looking after you goes, they really do. Not only did they do a great job of the wedding itself, they were a big help to me too. Sometimes you can feel like a spare wheel at events, made to feel a little 'in the way', even though you are the photographer. At Consall Hall, the complete opposite is true as all of their staff were friendly and helpful throughout, so a BIG thank you to them!
'Can I get a shout out for Uncle DJ Trev?!?!' Some weddings have a more subdued atmosphere, which is lovely, but from the moment I saw the wedding parties' selection of Dr Martens footwear (look below, it wasn't just a groom thing), I knew this was going to be a party... and so it was. Family friend Trev, had everyone up and on the dancefloor, singing and dancing before he made way for live band the Sons Of Clogger... amazing! Punky, modern, folk... the dancing did not stop... wonderful to see and photograph!
Having begun this blog discussing the groom in detail, the cars, the venue, the DJ, I can't help but think I've missed someone out. Amy, the beautiful bride that I had the pleasure of meeting, and photographing on this special day, may be last on my list, but most certainly not the least. With an infectious smile that lit up every shot that I took, she looked stunning at every point of the day. Relaxed, friendly and so happy. I've met some wonderful people over the years, but even on their happiest of days, smiling can sometimes be an art to get right on your photos. Am I smiling enough, too much, does it look staged? Some people can struggle on this front. For others, like Amy, it simply comes naturally and they shine through it. A gorgeous girl, in a gorgeous dress, with a gorgeous smile... and a funky pair of 'heart' emblazoned Dr Martens to boot!
Wedding photography by Jon Thorne at Consall Hall Gardens, Staffordshire.