Think English. Then think of something really English. Then add a dollop of Englishness on top. Right, now add a sprinkling of style, sophistication and a pinch of elegance. Top it all off with a teaspoon of fun and laughter, then sit back and enjoy. Mark and Shaun's wedding day was exactly this. An English countryside wedding, with touches splendour and excitement... oh, and a jazz fueled, vintage railway station...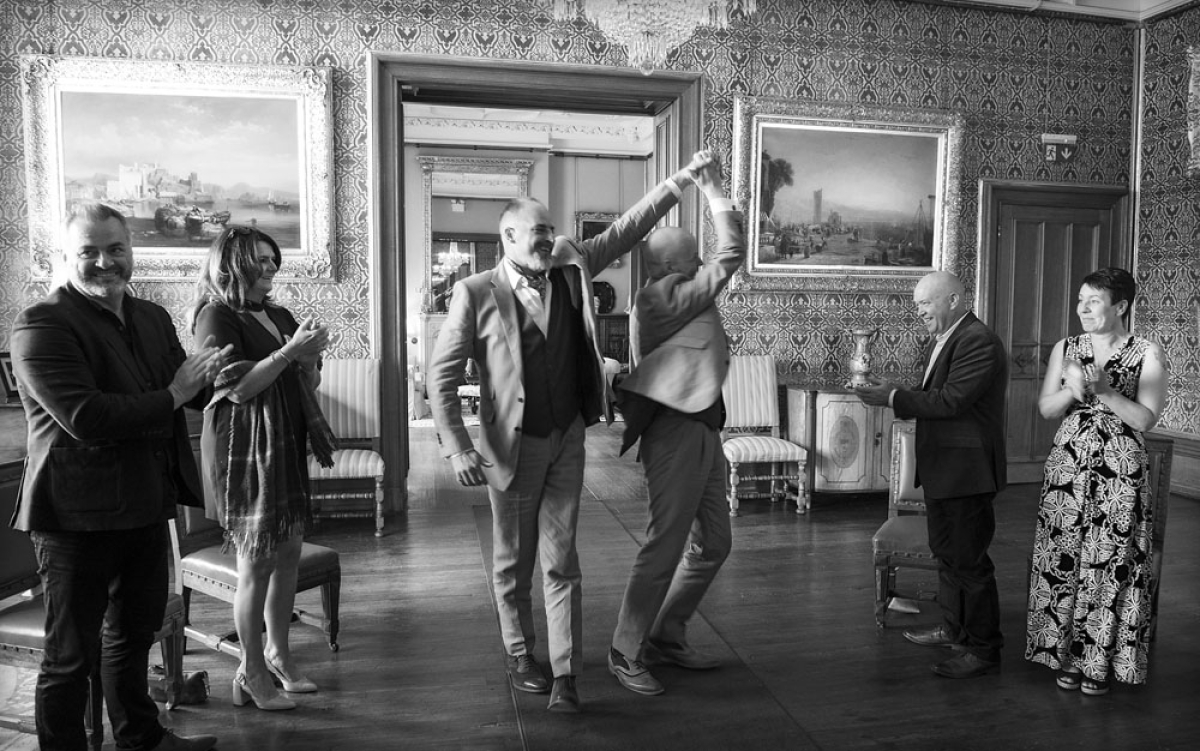 The wedding of Mark and Shaun
It isn't very often, as a wedding photographer, that you are part of something truly unique. Sure, you'll see some quaint touches, a few finishes here and there that make you look twice and say 'wow'. However, that feeling of being a part of something completely different and memorable, is quite unusual. Another thing that many people might find unusual is being formally invited to celebrate a couples wedding day... the night before! You have indeed read that right, Mark and Shaun's guests for their big day knew nothing until the evening prior. At this point, the eight guests in question for this intimate celebration were simply told to meet at Alton Station, on the 7th June 2017. So along they all went, and gathered at the Victorian station, built all the way back in 1849 as part of the Churnet Valley branch line for the North Staffordshire Railway. Assembled on the platform, and filled with suspense, the wonderful couple greeted them before they began to unravel the surprise in store. Personally, with camera in hand, the station was as much as a surprise as I needed... what a gorgeous building. Some of the photographs I managed to catch with Mark and Shaun, along with their guests during the wedding day in sunny Staffordshire came out so well, with the platform and building offering a fantastic backdrop.
So, next stop? The Heath House. Now when it comes to food at weddings, I know a fussy eater or two. Some people have a hard time making their way through what can sometimes be an overly grand dish, and perhaps the traditional wedding cake can be a little hit or miss. I defy anyone to turn their nose up at afternoon tea, surrounded by the gorgeous grounds of The Heath House, with a glass of champagne though. With the string trio playing in the background on the terrace and the food and drinks prepared and served by Martha's Table, the day got off to a brilliant start. But wait, I've even forgotten surprise number one, the transport. You'll see them both below, but upon the groom's arrival and subsequent 'follow us', the party was carried to their destination in a stunning Beauford and a classic eight seater Charabanc... marvellous! Back to the wedding! With Macey Gray's Hands providing the entrance music, and Shaun's pirouette down the aisle, the ceremony was a mixture of laughter, emotion, beautiful readings and a few tears of joy. In between it all, we also managed to sneak some photographs of just the guys together, as the owner of Heath House, Justin, gave a talk about the history of the house to the guests. A big thanks to Justin and Sophie for all their help on the day.
Congratulations, done. Celebratory champagne, done. Confetti, done. Jazz party, next! As the day at Heath House came to a close, the party then proceeded to head back to Alton Station, via their luxury transport, and were welcomed back by a jazz trio to get the party started. Cath's catering company, CS Caterers, provided the bubbly, the G&T's, the fruit vodka punch and the canapes to soak it all up. We even had a camembert treat with freshly baked dipping bread... I was spoilt! The party was so wonderful to see, with grooms and guests alike, taking to the platform and strutting their funky stuff as the band played. A real celebration, and I was so lucky to be a part of it. And that was before they all settled down for a 7 course meal in the stations old waiting room... simply amazing. Congratulations to Mark and Shaun!
Wedding photography by Jon Thorne at The Heath House and Alton Station, Staffordshire.