With the skies clear, on a warm September day, the lovely Jenny and Mark tied the knot in front of their friends and family at the Church of Holy Angels, right next door to the location of their reception, the stunning Staffordshire wedding venue, Hoar Cross Hall. At this point I must bring up that there is a little known fact about Hoar Cross Hall, that not many people know, but one which I fondly keep in mind... it's only a few minutes from my house!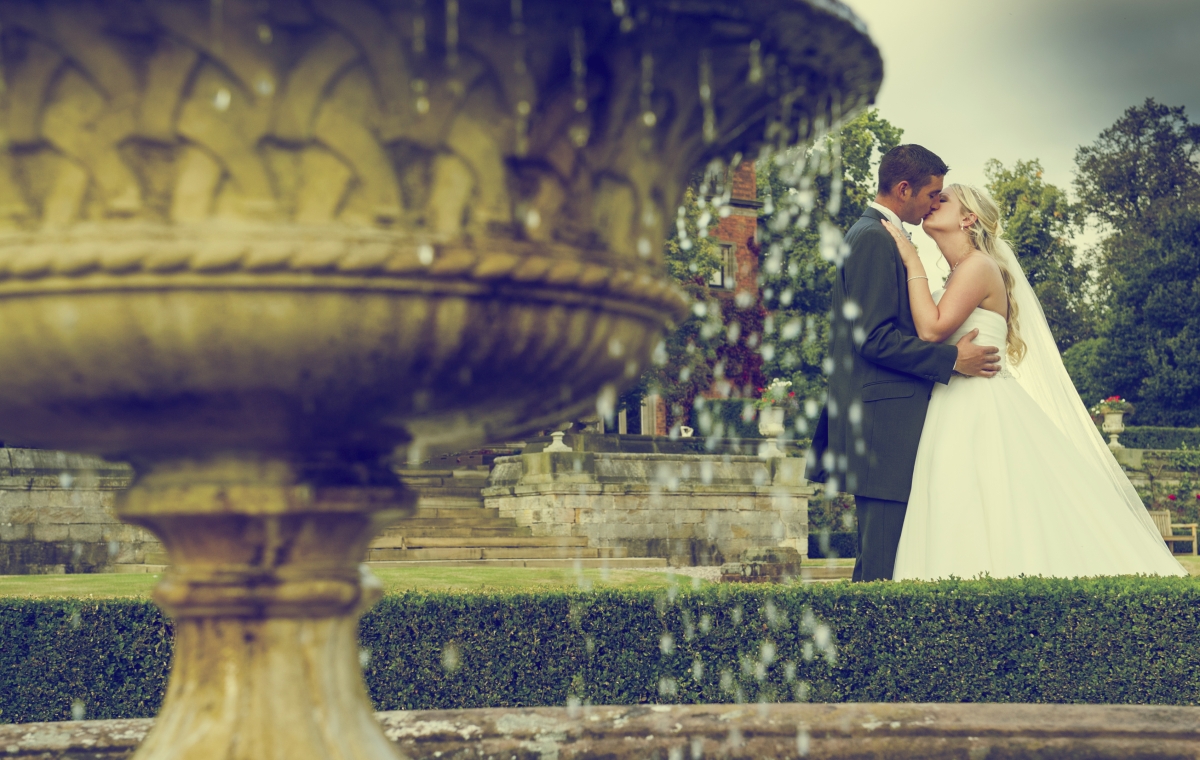 The wedding of Jenny and Mark
I'm going to try and sum this wedding up in one word as best as I can, but there are a few that spring to mind in regards to this beautiful day in Staffordshire where I photographed Jenny and Mark's big day. The first one I think of is 'relaxed'. Some weddings are frantic, due to nerves or a lack of preparation. Some days can be really stressful, with pre vow tears or an unforeseen issue arising. And then some are just, relaxed. Jenny and Mark have been a real pleasure to work with from start to finish, and relaxed every step of the way, looking forward to their wedding and enjoying it when it arrived. Even if the event itself (and I mean event as in ceremony through to reception) is a stress free affair, the morning of the wedding can quite often be fraught. So it was lovely to take in the peaceful, and excited atmosphere at Jenny's parents home, in the quaint little Derbyshire hamlet of Somersal Herbert, as the bride and her 'team' prepared for the wedding. Just looking back at the photographs it reminded me how smiley and happy everyone was and it was a sign of things to come... wonderful.
However, 'relaxed' isn't the only word that jumps out when I remember photographing this Staffordshire wedding. I'm going to fast forward, skip the middle part and jump right to the evening reception and choose 'lively'. My previous mention of a 'relaxed' day might have been hasty if the word conjures up thoughts of a lack of eventfulness in you... far from it. The atmosphere all day was simply a joy to be part of and the reception just took the excitement levels up past 10 to 11. The entire party of friends and family were up on the dance floor, creating a great joyous and celebratory evening... space for shuffling feet was at a premium, it was packed!
They are both good, descriptive words for Jenny and Mark's wedding, but alas, I'm going to rubber stamp another, 'elegant'. I skipped the whole ceremony and wedding breakfast to describe the evening celebrations, but it was indeed the middle, the central part of this Staffordshire wedding, that serves the best memories for me. Jenny looked absolutely amazing throughout, having chosen a beautiful wedding dress. The exact same thing can be said of the four bridesmaids, who fitted the 'elegant' brief perfectly. The sharp suited Mark and his matching best man and friends completed the pack. The elegance continued through their choice of venues. As a wedding photographer, or photographer full stop, I genuinely love the images that Gothic architecture creates and the Church of Holy Angels didn't disappoint. I was lucky to capture a few shots of the lovely couple as they said their vows in this impressive structure. Next followed the reception venue, right next door, Hoar Cross Hall. I've photographed here a number of times in the past and it never gets old. It is a beautiful venue, truly stunning, and again offers a real elegance to a wedding. It is a magnificent Grade II listed stately home and the gardens offer some fantastic backdrops for your wedding photographs. Have a look in the gallery for the tree lined walkways. Constructed in the 19th century, this Elizabethan building offers a real blend of tradition and grandeur, if you are looking for a Staffordshire wedding venue. Again, in my words, 'elegant'.
Wedding photography by Jon Thorne at Hoar Cross Hall, Staffordshire.