With Wimbledon soon upon us, the sun shining and being an Englishman, what could be more 'English' than a garden party? Add a stunning marquee, a glass of bubbles and a fantastic, live jazz band and I think it's fair to say that you have one spectacular wedding day on your hands. Throw in a brand new Rolls Royce, an incredible manor house photographic backdrop, a gorgeous bride and a dapper groom and you have the wonderful wedding of Georgia and Joe. I'm pleased to say, they asked me to be their wedding photographer.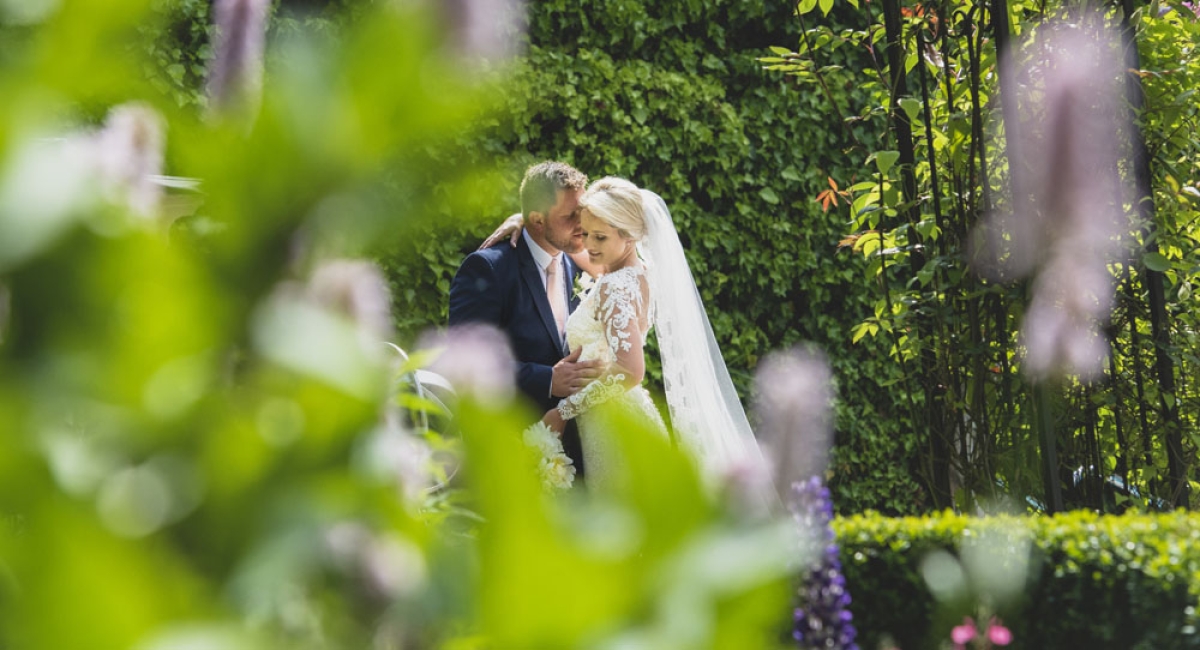 The wedding of Georgia and Joe
A wise man once said to me, "Jon. Don't sweat the small stuff when it comes to wedding day photography. If you've got a lovely couple and the venue looks the part, everything else will fall into place." And you know what, he was right... well most of the time! I have been so lucky to have met some truly wonderful couples over the years, and the warmth and happiness they and their families create on the big day makes my job so much easier. Add some amazing architectural backdrops behind a beautiful bride or handsome groom and everything starts to 'pop'. And from now on, Georgia and Joe's wedding day will be my benchmark for choice of venue! Not content with just one perfect, photogenic place, the lovely couple settled on three.
Firstly, the happy couple met at the end of the aisle and said their vows to each other, in front of friends and family, at the Canwell Church. However, before all that, I must highlight three things (which you'll also see below). One, the suited and booted chaps... a very stylish bunch! Secondly, the adorable flower girls who along with the bridesmaids were really lovely throughout, and of whom I caught a few unprompted, super smiley shots. And last, but certainly not least, the bride to be, Georgia, who simply glowed as she walked towards Joe, preparing to make their promises to each other. Beautiful.
The main reception itself was set in the sunny Staffordshire garden of the newlyweds very own house, complete with magnificent marquee, courtesy of Fews Marquees. I have to say, Georgia and Joe did a tremendous job. They must have worked so hard to make it look so good, and it was certainly worth the effort! With the bubbles flowing and live jazz band in swing, the atmosphere as guests arrived and began to enjoy the day was amazing. Before they joined their friends and family however, Georgia and Joe accompanied me to a private family residence for a mini photo shoot...
O. M. G.
Simply incredible. Jaw dropping. Amazing. A big thank you must go to mum Jane, who worked so hard to prepare everything, and she did a great job. Amidst immaculately kept gardens, amazing architecture and accompanied by wonderful weather, we managed to capture some beautiful photographs, and with the family connection in mind, some really special memories I'm sure. There is an image below of gorgeous Georgia in an archway that had me thinking 'Secret Garden' for days. Spectacular.
There were so many memorable things on the day, and people to mention, I could go on and on (you probably think I have already), so I thought I'd rattle a few things straight off the top of my head. Apologies if I've missed anything or anyone:
Fabulous first dance and full live set from the funk band, BRILLIANT! Funky, soul, pop, the lot!
Not content with a stylish venue (or three), the newly married couple arrived at the reception in a sensational, new, Rolls Royce!
Great speeches. On that note, a thank you to best man Frazer, and the rest of the chaps who taught me how to use a cherry picker...
... to get a great aerial shot!
Bridesmaids Zara and Lucie, you were brilliant
A big thank you to all of the lovely children, including Georgia and Joe's delightful daughter Amelia, who was one of the flower girls
A wonderful wedding day, a treat for my photographic side, and a huge congratulations to the fantastic couple, Georgia and Joe. To Georgia and Joe!
Wedding photography by Jon Thorne in Staffordshire.