English football fans. First thing that springs to mind? For me, tears of sadness, especially considering the current World Cup climate. All that hope, those dreams of ending 52 years of hurt, and then the crushing disappointment. Tears of sadness. The groom on my wedding photography shoot in Staffordshire on the 9th of June, however, had tears of a different kind, joy. It was truly amazing to watch the emotion wash over Andrew as he watched his beautiful bride to be Isobel, walk towards him, down the aisle, as they looked to say their vows together.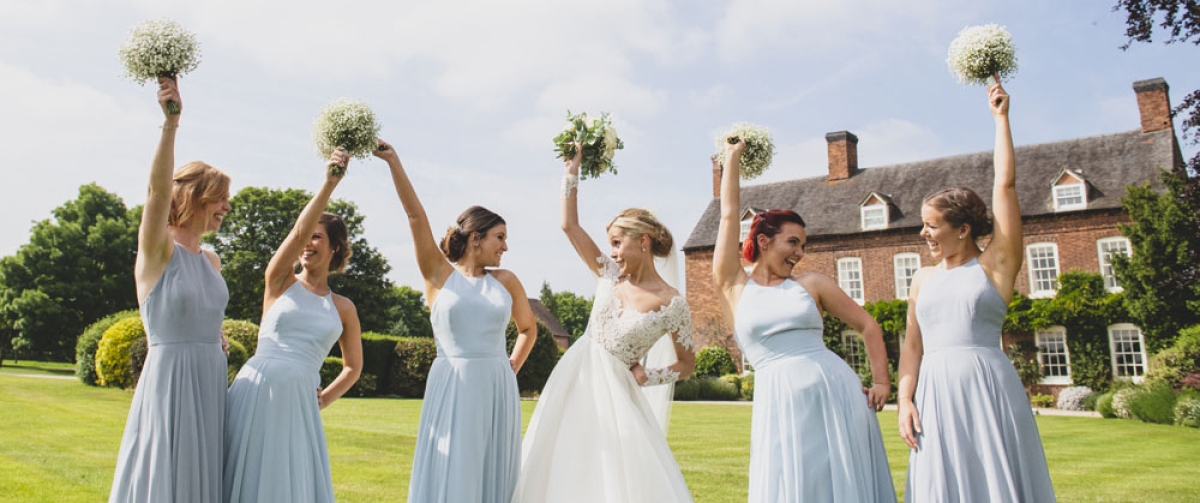 The wedding of Isobel and Andrew
Weddings have a habit of bringing out all sorts of emotions on the day. I've seen the odd rowdy bunch after a few vino's in the afternoon, but for the most part, they are a joy to watch and be involved in as a wedding photographer, witnessing an outpouring of happiness and love from friends and family as they congregate to witness and celebrate their loved ones big day. Isobel and Andrew's special day was no exception, and a privilege to photograph. From the relaxed atmosphere in Kings Bromley, as the bridal party started the day with a glass of prosecco and bagels, right through the emotional speeches and evening celebrations, everyone looked happy and overjoyed for the newlyweds, which was lovely to see.
As well as our dapper chap Andrew, we also had one other special member of the wedding party, the stunning and stylish Isobel, our bride to be. Now I don't claim to be a fashionista by any stretch of the imagination, but I'm sure you'll agree with my opinion that she looked amazing in her choice of dress, truly eye catching. Finished off with a luxurious pair of Jimmy Choo's, she indeed caught Andrew's eye, and brought a tear to it too, as she arrived in style at St Peter's Church Elford, in a wonderful, vintage Rolls Royce, winding its way through the avenue of trees, before making her way down the aisle towards her man. Indeed, it wasn't just Andrew who felt themselves well up a little at the sight of Isobel, with mum and bridesmaids a like smiling through tears of happiness. Beautiful to watch.
Now that our couple had found themselves together again, someone else very special joined them as they said their vows. It was something I've never seen before, and was quite lovely to see. Denise, a family friend, and their former local reverend, returned to St Peter's on this special occasion, especially to do this one ceremony. It clearly meant a lot to those there, and obviously, both Isobel and Andrew.
Vows made, confetti thrown and transport at the ready, our newlyweds and company made their way to Alrewas Hayes. As I've come to expect from such a special venue, guests were greeted with champagne and canape's and a great guitarist playing in the background. Really excellent! With group photos and bridal party's shots complete, we managed to sneak away from the crowds and I was able to capture a few precious moments of the couple enjoying their first hours of married life against the backdrop of the outdoor landscapes Alrewas Hayes has to offer. Stunning.
With its gorgeous interiors and amazing outdoor landscapes, Alrewas Hayes is one of Staffordshire's most stunning countryside venues. It really is a truly fantastic venue, and from a wedding couples point of view, it is great to be able to take advantage of the green scenery that backdrops Alrewas Hayes. Still looking? Make sure you have a look for yourself, as you won't find many venues in Staffordshire that take your breath away like this! I'd also like to thank Georgina and her team for their help throughout the day... always a pleasure!
It was a real pleasure photographing the happy couple and I truly hope they enjoy their honeymoon trip to South Africa and Mauritius... jealous! Congratulations Isobel and Andrew!
Wedding photography by Jon Thorne at Alrewas Hayes, Staffordshire.