Some people simply MUST be gluttons for punishment. As a wedding photographer, I like to think (and indeed do) that I spend a lot of my time around happy, smiley people, all enjoying an occasion that friends and family will reminisce about for years to come. A creative world of beautiful images... my perfect job. Now I admire those that work in teaching, as it's something I think I might struggle with, especially when it comes to the odd hormonal teenager you might have to deal with from time to time, but alas, the beautiful bride to be Catherine and her handsome husband to be Elliot, that I photographed at Dovecliff Hall in Staffordshire, have opted for just this profession. Another task that can be stressful is buying a new home and decorating it. Imagine being a teacher with the stresses that can bring, being a recently new homeowner, dusting off your painting overalls AND tying the knot, all at the same time... gluttons for punishment.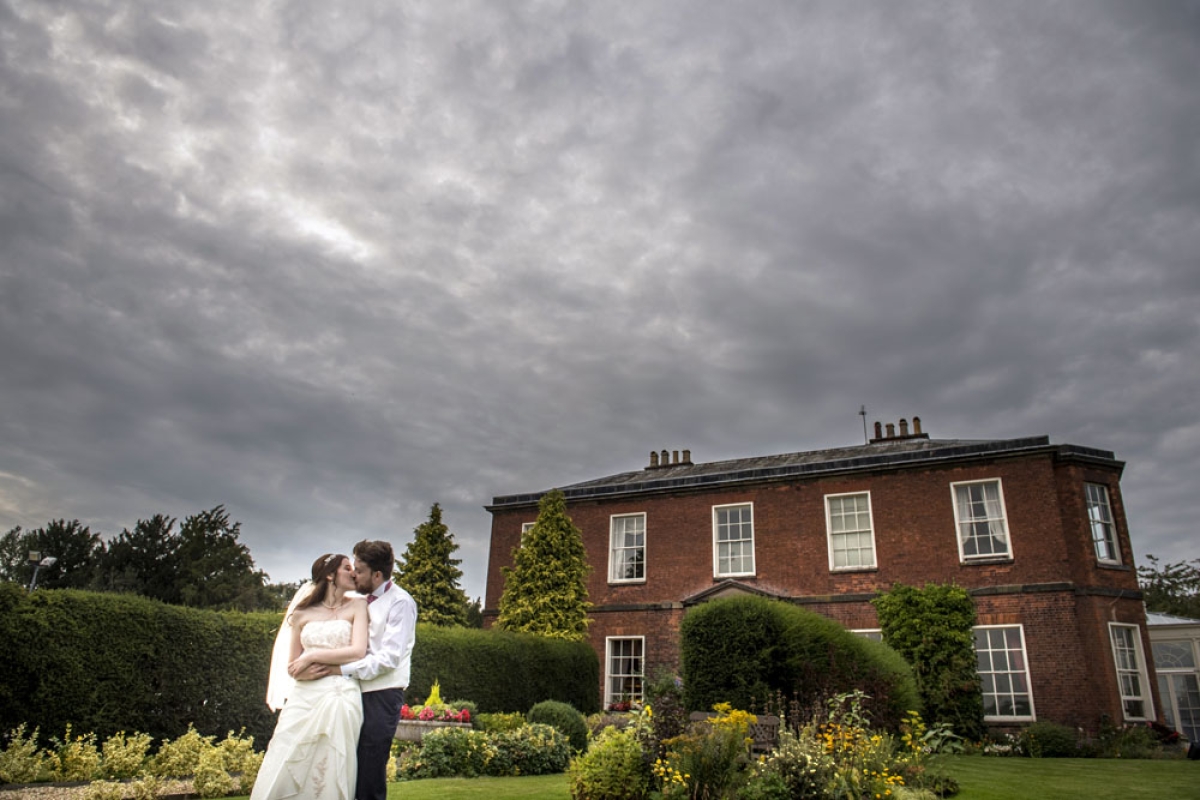 The wedding of Catherine and Elliot
So, on the 25th of August 2017, a Friday, I met up with the wonderful couple Catherine and Elliot for their big day... and what a lovely couple they are. As I said previously, these two teachers are in the middle of a redecorating process in their new home (congratulations!) and still found the time and energy to celebrate their obvious love for each other before friends and family. In what was a delightful, intimate wedding at Dovecliff Hall, there were some truly heartful moments from start to finish. Whether it was the tears of joy during the ceremony, Catherine being walked down the aisle by her grandfather or the speeches at the wedding breakfast that evoked such emotion, it was a beautiful day to have been a part of, and indeed to be able to photograph.
As well as the 'normal' or 'standard' shots during the important parts of the wedding such as the ceremony or the reception, Catherine, Elliot and I also managed to sneak in some really nice mini shoots, allowing the two of them to capture some special images of just the two of them. Just before the wedding breakfast itself, we were able to take advantage of the beautiful gardens and scenery at Dovecliff Hall and as an extra bonus, the weather contributed to some stunning shots of the newlyweds, backdropped by the most atmospheric of skies. The are a couple which also shoehorn in the beautiful hall, but also one below of Catherine alone, set against the fields and Mother Nature looking down from above... stunning! I've said it before and I'll say it again, the beauty of nature certainly makes a wedding photographers life like mine, MUCH easier.
There are a few mentions that I must not forget either. Firstly, a quick note regarding the pianist that was on hand after the ceremony. With a grand piano in the bar set and waiting, it was the perfect start to the couples first hour of married life.. it added a lovely ambience to the occasion. Secondly, the family members and friends on hand to help. It always makes things go so smoothly when you have a few helpful hands, and with best man Dominic of huge assistance all day, and Catherine's brothers Thomas and Anthony as ushers, everything just ticked along perfectly. Last, but not least, Ian from Dovecliff Hall. A real attention to detail, relaxed and extremely helpful... the perfect man for the job!
With congratulations in order for Catherine and Elliot, I must finish by detailing the beautiful venue in Staffordshire that they chose to host their wedding day, Dovecliff Hall. Looking back, I get a real sense of deja vu, and the more I think of it, the more I think it's the similarity between Dovecliff Hall and Crawley House, or to be more specific, the house of Matthew and Isobel Crawley from Downton Abbey fame. An elegant, Georgian House nestled in acres of picturesque Staffordshire countryside. We managed to capture a few scenic shots, as you'll see below (thankfully the weather held off after the recent downpours), and the hall offers a treat to the eyes as it backdrops the images. For those looking for something a little out of the way of all the hustle and bustle, a countryside retreat, it is a gorgeous little find. Having a venue that catches the eye can sometimes be so important when you look back at your wedding album and Dovecliff really does have that little sprinkling of elegance. So without further ado, congratulations to the happy couple!
Wedding photography by Jon Thorne at Dovecliff Hall, Staffordshire.