Would I ever want to go back to school? Hmm... I'd perhaps like to broaden my horizons, maybe expand my education further and explore certain parts of history, but back to school... I think I'd say no. Now my school days weren't terrible by any stretch of the imagination, but how many people want to return to those awkward years growing up where school was such an influential part of life... not many I'd guess... but then my school was NOTHING like Great John Street Hotel. The old, Victorian school house was more than likely a touch different in its previous incarnation as an educational institute, but it is an absolute show stopper when it comes to wedding venues in Manchester, as I found out at as photographer at Jane and Danny's big day on Saturday 4th February 2017. Would I go back to Great John Street? Categorically yes!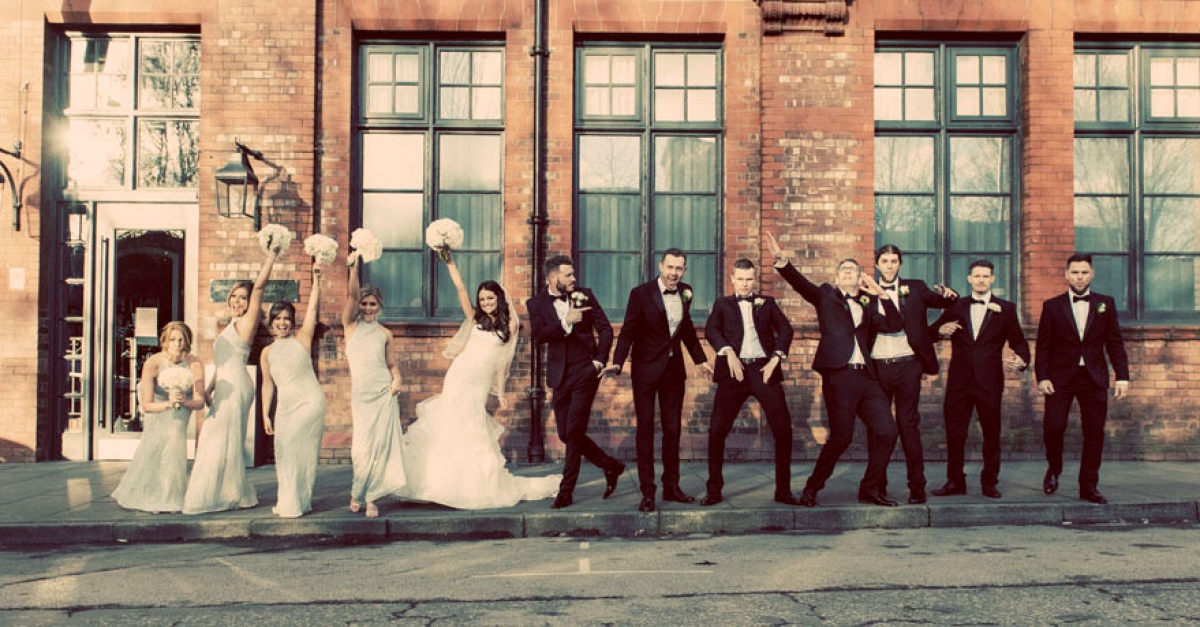 The wedding of Jane and Danny
So, on the 4th of February this year, I found myself in a part of the country I always enjoy visiting, but don't get to all that often, Manchester. Just a stones throw from the historic, industrial canals of the city, sits an old school house which was to be my base of photographic operations for the wedding of the gorgeous Jane and her dapper husband to be, Danny. Tee'ing off the day with our suited and booted, pro golfing, groom to be Danny and his best man (and company), we managed to photograph some really cool shots of the party as they made their way to the venue, around the streets of the city. It was a touch chilly at times, but you would never have known it as the sun burst through the clouds and showered the morning in beautiful Winter rays against a bright, blue sky. It was almost a day for sunglasses... in February... in Manchester... well it would have been rude to pass up such an opportunity! With the sun beating down, the guys all donned their black shades and it was like a scene from Reservoir Dogs, minus the gratuitous violence, added bow ties and more than a smile or two. You could sense this was going to be a great day, full of laughter and happiness, and it certainly was (the best man certainly raised a chuckle or two with his speech let me tell you).
Stylish groom and co, check. Gorgeous Winter sun, check. Stunning, historic wedding venue, check. Beautiful bride? Check! As well as being made to feel at home and part of the occasion by Danny, the exact same thing could be said of Jane. The breathtaking bride to be took the whole day in her stride, laid back, relaxed, excited and more than anything else, happy. Both Jane and Danny are truly wonderful people and I was so glad they chose me to photograph their wedding day in Manchester. The place, the people, everything was just so special and unique, a joy to photograph. Not only was the weather in our favour, but the venue was spot on from start to finish. All of the intricate vintage touches fitted so nicely with the overall ambience at the old school house. In between moments, I managed to capture some of these little details such as the table setups... really beautiful. Romance was truly in the air wherever you went. Even when the light began to fade, the ceremony was decorated with candles from all angles... magical. And what can possibly be better than enjoying a drink or two out on a roof top overlooking the great city of Manchester... amazing. Whether it is an intimate occasion or full on, no holds barred, all the family wedding, Great John Street Hotel has something for everyone. And it isn't just the bricks and decor that are memorable. The staff are such lovely people and a BIG part of what makes it so special. The wedding co-ordinator Jennie was a massive help throughout, I can't thank her enough. And even before the shoot itself, Lauren assisted me with everything I needed when I looked around the venue prior to the wedding. Thank you!
The venue itself is not the only sight you need to take in in this part of the city. As you'll see in the photographs below, there are so many not to be missed opportunities for your wedding backdrop. With the science museum just around the corner, and the canals within walking distance, there were countless times that my job as a wedding photographer were made just that little bit easier. The three of us and the videographer managed to sneak away from the rest of the wedding party and enjoy some moments away from the crowd. The happy couple really were the picture of happiness and glamour as they took some time for themselves along the canal side, hand in hand.
Wedding photography by Jon Thorne at Great John Street Hotel, Manchester.